CIT36XWB 36-Inch Masterpiece™Freedom™ Induction Cooktop, Stainless Steel Frame
Add to compare

Add to wishlist
Details & Features
With Freedom™ induction the entire surface of the cooktop can be used as one large cooking area. Up to 6 pots or pans can be heated simultaneously in any position and controlled using a full color touch screen.
Technical Specifications

56 inductor elements combined with pot detection automatically recognizes the size, shape and position of your cookware on the cooktop
Sapphire Glow LED embedded surface lights along the sides of cooktop provide visual feedback when a pot is moved or whether a pot is heated or not
TeppanyakiPro function divides a teppanyaki grill plate into one heated and one non-heated area
MyZone feature allows you to change a preset power level simply by moving a pot or pan on the cooktop
Wi-Fi connectivity allows the cooktop and matching hood to communicate with one another to synchronize turning on task lighting and ventilation
PowerBoost feature increases element power by up to 50%, saving time to heat up pots containing large quantities of water
PanBoost function allows for faster 30 second pan heat-up time and is ideal for cooking with a frying pan
Cookware detection - the position, size and shape of the cookware used is automatically detected by the cooktop
Transfer function allows you to transfer all of the settings of one cooking position to another cooking position
Residual heat indicator for each side of the cooktop indicates any side that is still hot
Cook Timer enables the cooking position to switch off automatically after a set period of time
Stopwatch Timer function displays the time that has elapsed since activation
Panel Lock allows you to lock the cooktop and prevent children from changing settings
Panel Lock allows you to lock the cooktop and prevent children from changing settings
Extra large full color interactive touch screen display
Full stainless steel frame
Dark gray glass color
Silver mirrored finish creates a stunning and unique design statement for the contemporary kitchen
Each element has its own shut-off timer, making it easier to coordinate the cooking of multiple dishes
Promotions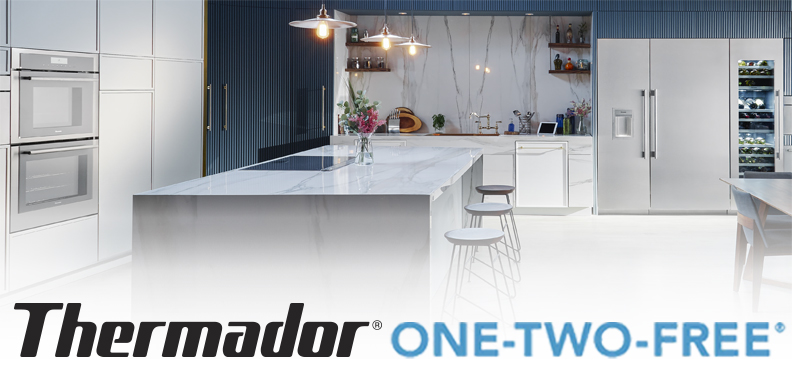 With our ONE-TWO-FREE program, purchase an eligible Thermador® wall oven plus and cooktop OR any professional range and receive a FREE Emerald® series dishwasher. Upgrade your FREE dishwasher to either a Topaz™ dishwasher for only $200, a Sapphire™ dishwasher for only $400, a Glass Care Centre dishwasher for $400 or a Star-Sapphire™ dishwasher for $600. Add any 2 or 3 Door Bottom Mount Thermador Refrigerator or 2 Freedom Columns Thermador refrigerators to your cooking packages and receive a bonus gift. Plus, add a built-in coffee machine for only $3000 with the purchase of a complete kitchen package. *Some conditions may apply. Promotion is not available for online orders. Please see in-store or contact your local Goemans Appliances for more details.
Valid from 4/10/2020 to 3/31/2021