The Goemans Promise
40 years have taught us that great customer service begins and ends with one universal truth - treat customers the way you would like to be treated. Our founder Tony Goemans may not have invented the Golden Rule, but he lived it everyday and instilled it in all of us. At Goemans, you'll be treated like part of the family and that's a promise.
More than just family owned and operated, we're family dedicated
We believe in family. Plain and simple. In fact, it's been a cornerstone of our business ever since we opened our doors back in 1978. We believe in building loyal relationships with our customers, and with our employees. To us, whomever walks in the front door is a part of our family and because of that we've placed superior value, a dedication to customer satisfaction, and personalized service as the hallmarks of how we operate. That's what you do for family.
Consider any one of our eight locations your appliance home away from home. Whether it's Stoney Creek, St. Catharines, Mississauga, Kitchener, London, Vaughan, Markham, or Whitby, Goemans Appliances is a welcome destination for you. Maybe that's why we've become one of Canada's largest independent appliance retailers.
We believe in family.
A Leader in Customer Satisfaction
Our vision extends beyond just a family spirit. It's important to us that you're satisfied with the experience. We know it's already hard enough to shop, get help, and deal with the process of buying appliances. That's why for more than four decades, we've focused on providing the very best in product selection and after-sales service. We listen, we don't sell. And, with over sixty leading brands in appliances, barbecues, vacuums, small appliances, and more, our product range is second to none. From the moment you walk in the doors, you're treated to what's considered a best-in-class showroom presentation as well, shopping, after all, should be as enjoyable as it is intuitive.
We're big believers in training. In fact, our continuous product training keeps our employees on top of the latest technologies and innovations in the appliance industry and we take great pride in that. Why? Because, again, from the moment you walk in the door you can expect a convenient, professional, and courteous retail experience.
We listen, we don't sell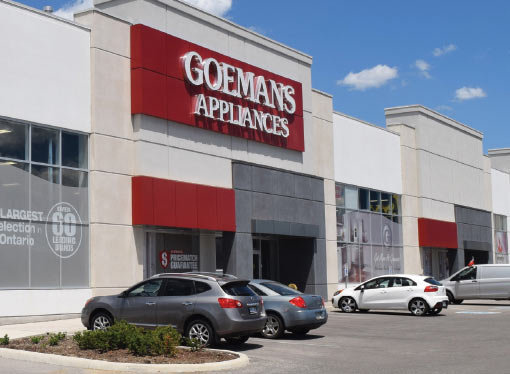 Big City Savings, Small Town Service
While not seen to you, we put our leading independent appliance retailer position to work everyday so you can reap the benefits of great pricing. We have the buying power to purchase in volume and pass on the savings to you, all while conducting ourselves like the hometown store small enough to provide the prompt, personalized service that you would expect of a traditional family-run business. And that's not changing.
We're an active member of our (meaning yours and ours) community too. We love to engage with events and local programs and we regularly take part in fundraising and relief initiatives in and outside of Ontario, including such critical initiatives like Relay for Life, Haiti Earthquake Relief, and Ronald McDonald House. Our mission is to see the world as a happy place and we feel a responsibility to help get it there.