800 Series Professional Rangetop 36'' Stainless steel
Show available promotions
Add to compare

Add to wishlist
Available Colors
Details & Features
The six burner 36" stainless steel slide-in gas rangetop provides the look and features of a professional-style appliance.

Performance
6 gas burners
OptiSim burner
Convenience
Heavy-duty grates can be cleaned in dishwasher
Full coverage, continuous surface grates allow pots and pans to move safely across the rangetop
Push-to-turn knobs with electronic ignition
LP conversion kit included for conversion from natural gas to liquid propane
Design
Superior quality stainless steel exterior finish
Black porcelain-enameled cooking surface
Pro-style bullnose provides a convenient place to rest cooking utensils and ingredients while cooking.
Upfront, heavy-duty metal knobs provide precise control
Rangetop design coordinates with Bosch ovens and ventilation
Safety
Six, full range BTU burners allow you to cook large meals with ease

Six, full range BTU burners allow you to cook large meals with ease High efficiency burner technology requires less gas BTUs to achieve a faster boiling time, resulting in energy and time savings.

Better heat distribution and versatility

The dual flame ring power burner allows for better heat distribution and more uniform cooking. One burner takes you from a high power dual flame for boiling or searing to one small flame for precise simmering.

Better flame control with the OptiSim

Better flame control with the OptiSim The OptiSim™ burner cap design is wider and thicker, offering more flame control at the lowest settings so you can simmer delicate sauces and melt chocolate without scorching.

Easy clean-up with dishwasher safe grates.

Easy clean-up with dishwasher safe grates. With a special enameling process, the heavy-duty continuous surface grates can be easily and quickly cleaned in the dishwasher.

Bold professional knob design.

Bold, heavy-duty metal control knobs and bezels offer a professional, commercial quality look for your kitchen.
Dual flame power burner delivers two heat options, from full power heat-up to delicately low simmer.
Stainless steel exterior front and large metal control knobs offers a bold distinct look.
OptiSim™ burner offers more flame control at the lowest settings for precise simmering and melting.
Six powerful high-efficiency gas burners allow you to cook multiple dishes with full range BTU performance.
Dishwasher safe grates and porcleain enameled cooking surface makes the clean-up process faster and easier.
Tech Specs
General
Type of appliance width
91 cm
Basic surface material
Porcelain, steel
Frame type
Standard design
Variant color
Stainless steel
Connectivity
Home Connect
Cooktop-based hood control
Size and weight
Dimensions
191 x 912 x 654 mm
Overall appliance dimensions (HxWxD) (in)
+ 25 3/4 " x 35 15/16" x 25 3/4 "
Net weight
35.4 kg
Net weight
78.000 lbs
Cooking zone 1
Location of 1st heating element
front left
Power of heating element (W)
5.3 kW
Type of heating element
Gas
Cooking zone 2
Location of 2nd heating element
center left
Cooking zone 3
Location of 3rd heating element
back left
Power of 3rd heating element (W)
3.5 kW
Type of 3rd heating element
Gas
Cooking zone 4
Location of 4th heating element
middle back
Power of 4th heating element (W)
3.5 kW
Cooking zone 5
Location of 5th heating element
back right
Power of 5th heating element (W)
1.5 kW
Cooking zone 6
Location of 6th heating element
center right
Cooking zone 7
Location of 7th heating element
front right
Power of 7th heating element (kW)
5.3 kW
Cooking zone 8
Location of 8th heating element
front middle / central
Power of 8th heating element (kW)
3.5 kW
Cooking zone 9
Location of 9th heating element
front centre/cent
Construction type
Color of frame
Stainless steel
Color of surface
Stainless steel
Construction type
Built-in
Number of electric elements
0
Number of electric cooking zones
0
Type of frame
Professional, Standard frame
Number of gas burners
6
Number of halogen elements
0
Installation Type
Built-in
Number of radiant elements
0
Number of electric warming zones
0
Safety
Residual heat indicator
without
Type of safety device for gas
Electromagnetic for each burner
Connection
Location of gas connection
rear
Gas connection rating
22,570 W
Frequency
60 Hz
Energy source
Gas
Power cord length
150 cm
Power cord length (in)
60.0 IN
Performance
6 gas burners
OptiSim® burner
Convenience
Heavy-duty grates can be cleaned in dishwasher
Full coverage, continuous surface grates allow pots and pans to move safely across the rangetop
Push-to-turn knobs with electronic ignition
LP conversion kit included for conversion from natural gas to liquid propane
Design
Superior quality stainless steel exterior finish
Black porcelain-enameled cooking surface
Pro-style bullnose provides a convenient place to rest cooking utensils and ingredients while cooking.
Upfront, heavy-duty metal knobs provide precise control
Rangetop design coordinates with Bosch ovens and ventilation
Safety
Promotions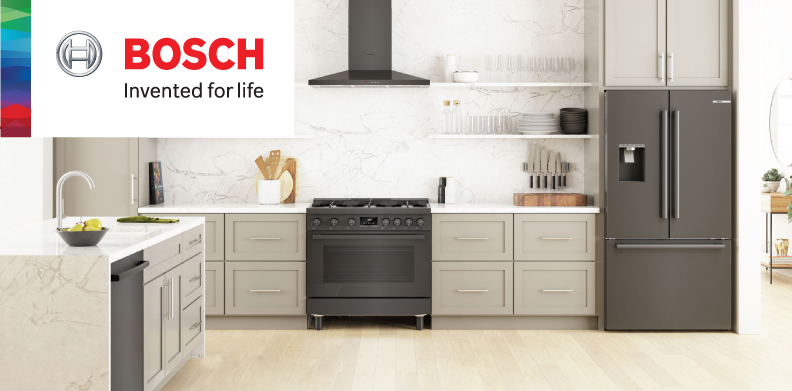 Enrich your kitchen with German engineered style. Now more than ever, your time revolves around your kitchen. Take advantage of Bosch's Instant Rebate Program, with kitchen appliances that perform as beautifully as they look. SAVE up to $2100* on qualifying Bosch Appliance Packages + get up to $500† bonus instant rebate on qualifying Bosch Kitchen packages from March 10 – June 2, 2022. *†Some conditions apply. Promotion is not available for online orders. See in-store or contact your local Goemans Appliances for more details.
Valid from 3/10/2022 to 6/2/2022
More Like This…
Popular Now...